With every order of Casa de Garcia Red Robusto Bundle of 20, you get this bonus item: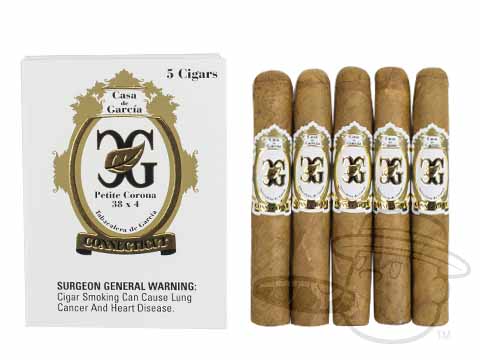 Casa de Garcia Petite Corona Connecticut
Free Bonus
New from Altadis U.S.A., Casa de Garcia Red is a tasty new twist on the fine Dominican flavor of Casa de Garcia. Smooth and rich with a slight sweetness on the tip, these bundles are bound to wow fans of Baccarat and other sugar-tipped cigars.
Here's what others have to say about this item!
AMAZING
dollar for dollar, I've found no better daily smoke. every stick is quality rolled and has just enough flavor on the tip to not be overwhelming. they seem to last forever in my humidor. incredible even burn and always a consistent smoke over and over
By Terry on May 24, 2014
Good budget priced cigar
Pretty good mild budget cigar, burns ok, good smoke for the price
By Stephen on Sep 4, 2014
Red
The red Casa de Garcia is one of the best short inexpensive cigars I've found. While you never want to waste a stick, this is one that if you drop it in the yard and run over it with the mower, you can afford to go get another one and not shed a tear.
By KEN on Jun 25, 2015
Casa de Garcia Red Robusto
is rated
4.5
out of
5
based on
3
customer ratings.
Customer Questions
(No one has asked a question yet.)