With every order of Casa de Garcia Red Toro Bundle of 20, you get this bonus item: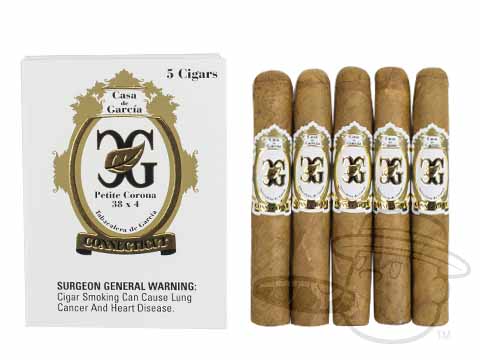 Casa de Garcia Petite Corona Connecticut
Free Bonus
From the same company that`s behind Montecristo, Romeo y Julieta, St. Luis Rey and many others, Casa de Garcia is an affordable yet flavorful bundled brand of cigar. The Casa de Garcia Red has a sweetened tip for an extra dose of satisfying flavor.
Here's what others have to say about this item!
Everyday Delight!
I liked the Casa de Garcia Toro Maduro but wanted something fuller bodied. Hesitated on this because of the "sweetened tip". The good news: I can't taste any sweetened tip. The better news: these are my favorite day-to-day cigars. I can sit at my desk and enjoy these while working on the computer or just relaxing. The price is right, they have a satisfying flavor, decent smoke, and they stay lit.


By Michael on Aug 6, 2013
Casa de Garcia Red Toro
is rated
4.2
out of
5
based on
1
customer ratings.
Customer Questions
Hi. I'm new to Cigars, just wondering what the sizing means. For example, 5 x 50. What does that mean? Thanks!
The sizing is displayed "Inches in length" X "Ring Gauge of the cigar". So, the first part is the length of the cigars in inches and the second is the width of the cigar in 64ths of an inch.
By Peter on Jul 18, 2014