Please Enable JavaScript
Your browser does not support JavaScript, or it is disabled. You will not be able to properly use this site until you enable JavaScript
Logging you in ... Please Wait.
Top Reviewed Cigars
Most Popular Reviewed Cigars
Want the inside scoop on the hottest cigars out there? Don't just take our word for it - Read our customer-submitted product reviews and check out what our customers are saying about some of our most popular items!
Tabak Especial Toro Negra
4.8
From $8.17 a stick
Tabak
Good smoking cigar
Al Capone Sweets Cognac Filtered
4.3
From $0.70 a stick
CN review
Also prompt delivery.
Dutch Masters Palma Box
4.7
From $1.09 a stick
Precise
Good mellow daily cigar
Tabak Especial Robusto Dulce
4.8
From $7.79 a stick
Great Service
Fast service product as advertised
Acid 1400cc
4.6
From $9.72 a stick
ACID 1400
NICE CIGAR. A BIT TOO SWEET FOR ME
Acid Cold Infusion Tea
4.7
From $7.00 a stick
A favorite
Great prices and good delivery time
Tatiana Classic Vanilla
4.3
From $3.00 a stick
Love these
For the price, you really can't beat these.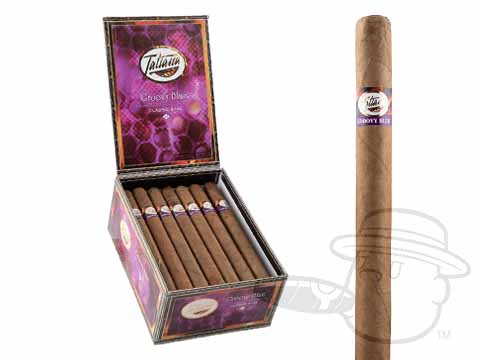 Tatiana Classic Groovy Blue
4.5
From $3.00 a stick
Tatiana cigars
Tatiana's are My favorite smooth and tasteful
Macanudo Court Cafe Tube
4.1
From $2.93 a stick
Perfect smoke
This cigar is perfect if you like a mild cigar.
90+ Rated All-Star Sampler - Limit One Per Household
4.5
From $7.64 a stick
Nice buy
Great price for a quality sampler. I enjoyed them all.
Isla Del Sol Gran Corona
4.2
From $3.80 a stick
Best Price - Great Service
Best Price for my Isla Del Sol. Love the they are shipped
BCP Cigarillos - Irish Cream
4.2
From $0.40 a stick
Fantastic service
Box arrived fast. Packaged professionally. Cigars are fresh.
Tabak Especial Toro Dulce
4.7
From $8.17 a stick
Top Notch!
I very much enjoy the aroma and smooth taste of the Tabak Cigars.
Al Capone Sweets Cognac Unfiltered
4.6
From $0.70 a stick
Al Capone Sweets Cognac Unfiltered
Great pricing & always in-stock. Have been a customer since 2017
Asylum Schizo 60x6
4.3
From $3.40 a stick
Asylum Schizo 60
It is a great cigar for everyday. price and quality great match up
Larutan Dirt By Drew Estate
4.5
From $5.71 a stick
dirt by drew
this one a good quick smoke. Even burn and good construction. pretty tasty
Arturo Fuente Curly Head Natural
4.3
From $2.70 a stick
Review
These are nice cigars. Very smooth with a great flavor. Happy with my purchase.
Baccarat Churchill Natural
4.2
From $3.96 a stick
Baccarat are the best!!
A sweet flavor when they touch your lips. Mild and always burn even. Great choice!!
Quorum Double Gordo Shade
4.4
From $2.50 a stick
Good smoke
For the price this is a good smoke. They burn evenly and are consistent through out.
Baccarat Toro
4.4
From $3.76 a stick
Baccarat
Amazing Cigar (great for beginner smoker)- and fast shipping from Best Cigar Prices!
Larutan Dirt Torpedo By Drew Estate
4.7
From $7.04 a stick
Great smoke
Great smoke for the price. Excellent for after dinner. Smooth flavorful and not too spicy.
Acid Factory Tour Sampler
4.5
From $5.28 a stick
Very nice
Loved the sample and I enjoyed the freshness of the cigars. A great way to discover new favorites.
Backwoods Honey Pack Of 40
4.2
From $0.90 a stick
Love these
Order these regularly for my husband and I through Best Cigar. Very pleased with both the product and company.
Oliva Serie V Melanio Robusto
4.6
From $8.00 a stick
Great value in a mellow cigar experience
This is a well-constructed, great burning mild cigar. The robusto is my favorite of the Serie V melanio sizes.
Romeo Y Julieta 1875 Magnum
4.4
From $6.65 a stick
Classic Taste That You Come to Expect!
A really nice cigar. Never disappoints, with the classic taste we've come to expect from this timeless cigar!
Acid Kuba Kuba Maduro
4.7
From $8.17 a stick
Kuba Kuba
One of the best cigars ever if you like flavor. The price was outmatched, the service was spot on and the shipping was fast!
BCP Cigarillos - Irish Whiskey
4.2
From $0.40 a stick
Deliciously convenient
A great quick mid day snack when you don't have time to commit to a full cigar. The size is really convenient and great value!
Acid Krush Morado Maduro
4.6
From $1.50 a stick
Acid Krush Morado Maduro 4 x 32—Tin
Actually these Maduro cigars are my favorite of all cigars. I'll continue buying them in bulk because they are so sweet and mild!
Acid Collector Tin Sampler
4.4
From $4.86 a stick
Excellent cigars
This sampler has many different acid cigars that I can't get at any store in my area. They were all great. Try it you won't regret it.
Arturo Fuente 8-5-8 Natural
4.4
From $5.60 a stick
My favorite cigar
The 858 has long been a favorite with me and all my friends, and catching them on sale at BCP on top of their already great price is epic!
Isla Del Sol Robusto
4.5
From $4.10 a stick
Great smoke
Love the mild, smooth smoke. Been enjoying these for about 3 years and nothing else because I find them to be consistent and high quality.
Acid Blondie Maduro
4.7
From $4.75 a stick
Smooth smoke and good price
This is great for a short smoke when you don't want to burn one for an hour. Smooth and flavor is great! Best price I've seen on these also.
Backwoods Sweet Aromatic Pack Of 40
4.1
From $0.90 a stick
high quality for good price
Only reasonably priced natural tobacco cigar out there. This one needs no advertising; it's often out of stock; never on sale. Smells good.
Acid Kuba Kuba
4.5
From $8.17 a stick
Great smoke
One of my favorite favored cigars. Smooth smoke with a coffee flavor. I have paired with coffee, tea, and whiskey and have not been let down.
Romeo Y Julieta 1875 Bully
4.4
From $5.68 a stick
Great Smoke
I always purchase Romeo and Julieta Bully's from Best Cigar Prices. I never get a bad cigar. I enjoy the bonuses they throw in most of the time.
Isla Del Sol Toro
4.3
From $4.45 a stick
Smooth as a good cup of coffee
A great cigar to relax with. Having with the morning coffee or having after a great dinner in the evening this cigar is always a great compliment.
Arturo Fuente Exquisitos Maduro
4.5
From $2.44 a stick
Great short smoke
I bought 2 of the exquisitos a while back to have on a 2 hr drive and was sold. They are a great stick for a short smoke. Ive been buying them ever since.
Baccarat Rothschild Natural
4.7
From $3.64 a stick
Fast
I have ordered from other online retailers but must say I was impressed by how quickly my cigars arrived. They were also so fresh. I will be ordering again
Alec Bradley 90-Rated 5-Cigar Sampler - Limit 1 Per Household
4.6
From $8.00 a stick
Great smokes!
I wanted to try out some Alec Bradley sticks and this was my first chance to grab some at a great price. They were are great, well packed, and in perfect condition.
Acid Blondie
4.5
From $4.75 a stick
Nice, sweet cigar
Not overly sweet but leaves a sweet taste on your lips. The very nice wood(cedar?) box is packed with tobacco to help keep them fresh and makes a nice little keep sake.
Romeo Y Julieta Reserve Churchill
4.7
From $5.96 a stick
My cigars
This cigars are the best ones i ever smoke!°!!! Also others that i buy at cigar Prices! Best cigar prices always been good to me!!! For me they are the best ones!!!!😋
Acid Krush Blue Connecticut
4.6
From $1.50 a stick
We love Acid !
Everything the size, aroma, taste and burn is perfect with these ! Even the cigar snob will accept one and always comment that they enjoy the smaller yet satisfying cigar
Tatiana Miniature Vanilla Bundle
4.3
From $1.08 a stick
Smooth
We love the Tatiana brand and most of all their cigars! These mini vanilla cigars and smooth and satisfying. Simple but enough to have an outside break. Must have a box on hand.
Acid Blondie Belicoso
4.6
From $7.33 a stick
Great Flavor and Smell
Love this cigar, it's a nice change of pace from other "non-flavored" cigars. I smoke a couple on the golf course and everyone compliments the aroma they give off. Sweet and smooth cigar.
Quorum Toro Natural
4.1
From $2.00 a stick
Your everyday 2 or 3 smokes per day
Good, medium bodied smoke with nutty, woody, and a natural sweet flavor throughout in a traditional toro. These bundled cigars are a real bargain! Pick up a couple of bundles and enjoy the day.
BCP Cigarillos - Natural
4.1
From $0.40 a stick
My favorite
These cigarillos are perfect. I get 2 20-minute breaks during the day. During a break, I have time for a walk and a smoke of one of these. These cigarillos are perfect for that small break during the work-day.
Isla Del Sol Churchill
4.6
From $4.75 a stick
Love these cigars
My brother-in-law turned me on to Isla Del Sol several years ago and I have smoked nothing else since. The quality and price are the best around, and Best Cigar Prices is the only place to shop. Service is always outstanding.
Acid C-Note
4.5
From $1.14 a stick
First order
Stopped ordering from Thompson cigar due to delayed shipments with in stock items and horrible customer service. I paid about the same here and even got some great bonus cigars with it free. Order is arriving today as it should. Very happy so far.
Macanudo Ascot Cafe
4.2
From $1.55 a stick
Finest cigar ever
I have been a loyal Macanudo fan for more than 15 years. I have smoked many different cigars in that period of time, and I keep coming back to Macanudo ascot. They are smaller and enable a shorter smoke than some others, but don't compromise on quality.
Flor De Las Antillas Sungrown Toro Box-Press
4.3
From $6.10 a stick
Never Fail
I discovered Flor the year after it was awarded cigar of the year. I have ordered them regularly since then. I have introduced them to friends who are also now hooked on them. I'm sorry, I have tried others, certainly good, maybe better but, I am assured of the quality of this cigar for me, my taste. It never fails me. I can smoke it from beginning to the very end without a rough taste or dirty flavor as it burns well thru out.