Fight for Your Right to Smoke Cigars – Keep Big Government Out of Our Humidors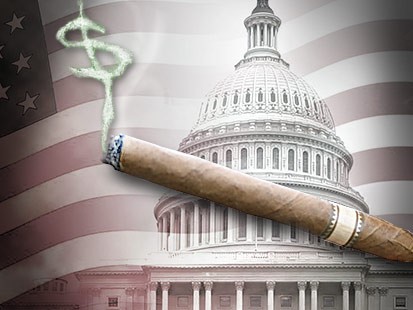 All across the country cigar smokers are becoming politically active as federal and local governments scramble to tax tobacco products as deeply as possible. It's a nationwide fight to preserve the rich tradition of cigar smoking and the freedom to choose what to do with one's leisure time.
Here in New York State, governor David Paterson is trying to push through a budget that would raise tobacco tax from an already-high 46% to an astronomical 90%. This would surely put a large number, if not a majority of NY brick-and-mortar cigar shops out of business. In effect, it will create little to no increase in tax revenues since cigar sales will drop dramatically across the board.
Cigar Aficionado reports that help is on the way for the cigar industry, as the New York Tobacconists Association (formed this year with help from the CRA) is making headway in fighting this ridiculous tax. They are beginning to see legislative support in the state Senate, including the Majority Leader, who wrote, "Our conference cannot levy a punitive tax and put the weight on the back of our state's hard-working small-business owners."
BestCigarPrices management were part of the tobacco industry delegation that traveled to Albany in May to argue against the increase. We're very pleased that our efforts seem to be paying off, but now is not the time to be complacent. We are continuing to fight the tax with all our resources.
Did you know that when you buy cigars in New York, you're first charged a 46% tobacco tax and then up to 8.875% sales tax? You are being taxed on tax — this is nuts!
Tax reform is long overdue and people all over the country are buzzing about it. We're not calling to overthrow the government here — comparing today's out-of-control taxation with the Boston Tea Party is like comparing the iPhone with a telegraph machine. Today's world and economy are vastly more complex, even if the sentiment is the same.
What we are proposing is that we all take a good, hard look at what each one of us can do personally to fight for our rights as American citizens. It may be beating a dead horse, but contacting your district's Congressperson really does make a difference when thousands of voices add up. Ask your local B&M how you can support the fight. Check out the CRA for other valuable resources and join us in keeping big government out of our humidors!