Act now and

save $5.00

. Limited time only!
The below item has a MSRP of $19.95 and normally sells for $13.99 Get it now for
$8.99
when you add Arturo Fuente Brevas Royales Natural to your cart.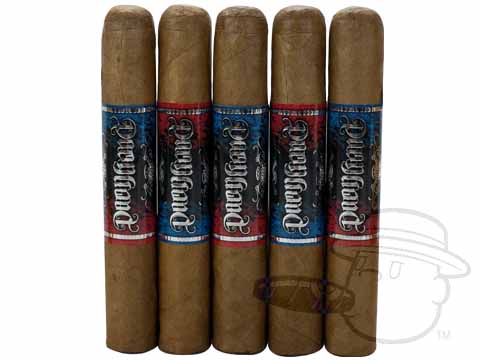 Damn Good Robusto - by Alec Bradley
Add+On Deal $8.99
A-Fuente Gran Reserva is more that just the finest smoking enjoyment a cigar lover can experience, it represents Four Generations of family tradition, that include love, pride, and personal sacrifices. Every A-Fuente cigar carries the personal family touch that makes it one of the world's finest. Only the highest quality vintage tobaccos and hand workmanship go into A-Fuente cigars, making them a blend of art and craftsmanship. Each leaf is personally selected from a private family reserve set aside exclusively for the making of these cigars. Blended with the finest "Fuente Tobaccos" internationally recognized for their superiority, the A-Fuente Gran Reserva is then skillfully rolled with African Cameroon, Connecticut Shade or the most recent addition to the Gran Reserva line, Ecuadorian Sun Grown, these wrapper tobaccos are the most expensive and sought after wrapper tobacco in the world.

The honor of making the A-Fuente Gran Reserva is given only to the most gifted cigar makers, those with the rare skills needed o create this uniquely blended cigar. Taking absolutely no short cuts, every critical step is done completely by hand, to ensure a finished cigar without parallel.

A Fuente cigars are then aged in Spanish Cedar vaults to a peak of perfection to create a marriage of the blends producing an excellent "individualistic" heavyweight cigar to be counted among the worlds finest.

A Fuente Gran Reserva guaranteed one quality only "The Finest"
Here's what others have to say about this item!
Dale Z
My favorite cigar has turned into my everyday smoke and my only smoke. Best of the best !
By dale on Dec 12, 2013
Brevas Royales
Consistent, smooth, everyday smoke from Arturo Feunte. Quality cigar at reasonable price.
By John on Aug 25, 2015
Brevas Roales
Great everyday smoke at a reasonable price.
By John on Oct 28, 2014
Best Everyday Smoke
I have been smoking these for years now and it is the best everyday smoke as it is consistent in flavor, draw and construction.
By dale on Aug 12, 2014
Brevas Royales
Consistent smooth smoke!
By John on May 3, 2015
My Favorite
For consistency in Appearance and Flavor you can't beat Brevas Royalas Natural. My choice for many years now and I don't plan on changing.
By dale on Jan 9, 2015
Great cigar purchase service
I have been using BestCigarPrices for 13 years to buy my cigars with very good service.
By Steven on Jun 11, 2015
A Fuente brevas
This is a well made cigar burns evenly and is very good. First time buy but not my last.
By Myron on Oct 22, 2015
Everyday the best
This cigar is my favorite for everyday smoking. Along with the price is the flavor, draw/burn and the construction. I have been smoking these for years and will not change !
By dale on Sep 18, 2014
Brevas Royales
Consistent every day medium bodied cigar!
By John on Jul 1, 2015
Brevas Royales
Very pleased with this everyday cigar from Best Cigars.
By John on Jul 26, 2015
Brevas Royale
Great everyday smoke, not to mild not to strong, just right, always fresh from best cigars!
By John on Sep 4, 2014
Arturo Fuente
mild smoke with good burn/ hard to beat the value
By dan on Dec 23, 2016
Arturo Fuente Brevas Royales Natural
is rated
4.4
out of
5
based on
14
customer ratings.
Customer Questions
(No one has asked a question yet.)