Act now and

save $15.00

. Limited time only!
The below item has a MSRP of $110.00 and normally sells for $64.99 Get it now for
$49.99
when you add Macanudo Crystal Maduro to your cart.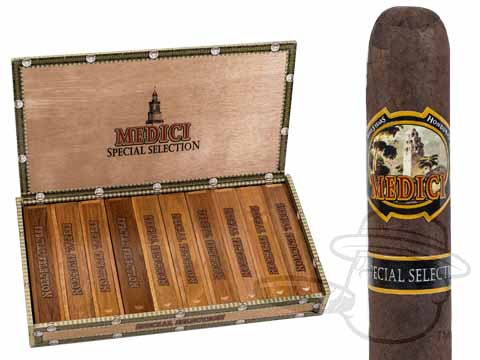 Medici Limited Edition Special Selection - by Alec Bradley
Add+On Deal $49.99
8 Macanudo Maduro 5 1/2 x 50 cigars in individual glass tubes. Macanudo Maduro cigars offer all the richness of the fullest-flavored Connecticut Broadleaf wrappers and all the smoothness that you expect from this leading premium cigar brand. Crafted in the Dominican Republic using the very best of Broadleaf wrappers from the Connecticut River Valley, Macanudo Maduro cigars are creamy and slightly sweet with mild-to-medium strength and gentle notes of cocoa, cedar, and spice.Macanudo Crystal Maduro delivers its warm and welcoming maduro character in an expertly crafted 5 1/2 x 50 Robusto Extra vitola.
Here's what others have to say about this item!
nice packaging, good draw, OK cigar
I don't usually buy tubes, and these came in sealed glass tubes. But they were Macanudos with a good rating, and I used to really like the Macanudo Reserve series that they once had. Looking beyond the elaborate packaging, I found these to have a decent draw and a consistent flavor but flatter and less aromatic than I expected.
By Carleton on Oct 28, 2015
Excellent
Excellent product. I really enjoy my Macanudo Crystal Maduro. Excellent Flavor.
By J on Aug 12, 2014
Great
Very rich and full bodied taste
By Sean on Oct 14, 2014
Good
Pleasing aroma and taste.
By DEBRA on Feb 21, 2014
Perfect Cigar for Me
I like a cigar length of about 5"(up to 5 3/4")and a ring size of about 50 to 54.This size provides a great smoke you can finish in less than an hour.

The Macanudo Crystal Maduro size is a perfect match for me.

Great draw and even burn. No maintenance needed. Awesome construction. Maduro provides a strong great taste. Best cigar I have smoked.

A rating of 94 is no accident.

Robert
By Robert on Mar 19, 2015
Macanudo Crystal Maduro
The pre-light aroma is very light with a mix of wheat and tobacco. I use a punch and the cold draw is easy and gives off a gentle flavor. Once lit, all the work is done. Fantastic steady burn rate. Great ash with fully half the overall length gone before the first drop. The first third had a gentle sweetness to it.The second third more dark, earthy, and with a growing peppery effect. I'd call these medium/full bodied. Great consistency in these cigars. Each time you pick one up you know what to expect and you know you'll love it.
By William on Jul 2, 2014
Great smoke
A great addition to your humidor. Pull them out for a special occasion with your cigar buddies.
By Brandon on Nov 24, 2016
Macanudo Crystal Maduro
is rated
4.7
out of
5
based on
7
customer ratings.
Customer Questions
(No one has asked a question yet.)